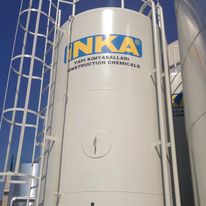 INKA is a construction chemicals supplier company in Turkey. They established the company in 1977. The company, first, was established to meet Concrete Curing Compounds demand around the world. Yet, then, in the past three decades, the company has greatly brought a large product variety by adding concrete and mortar admixture manufacturing. INKA has been a good company in the Construction Chemicals market, with over 100 products in 11 different categories. The main of these product categories are; Self-Compacting Concrete Chemicals, Normal and Super-Plasticisers, Antifreezing Additives, Air Entraining Admixtures, Mortar Admixtures, Adhesives for Tile, Marble, Natural Stones and Granite, Joint Fillers, Self-Leveling, Grouting and Repair Mortars, Waterproofing and Insulation Materials, Concrete Curing Compounds, Bitumen Based Coatings, Epoxy Systems, Paraffin Emulsions of different grades.
The construction chemicals supplier INKA produces specialty chemicals for the textile, wood, paper, and ceramic sectors in addition to materials for the building industry. It has offices in Istanbul, Ankara, Izmir, and Antalya, along with the various distributors in Turkey. The company's goal is to offer the best quality goods and services to all of its consumers in accordance with their wishes, to constantly expand its product portfolio and quality, and to remain a permanent player in the industry by doing so. INKA is a KUB supporter (Concrete Admixture Producers Association – a member of EFCA)
Quality and Certificates
INKA is an organization with an ISO 9001:2000 Quality Control Scheme that has recently been upgraded to ISO 9001:2008 (the first company in its field to be certified by Bureau Veritas / UKAS with the 2008 version), and its products meet ASTM, TS EN, and CE requirements.
As a Construction Chemicals Supplier abroad
INKA has been the choice of many international companies in the industry. For example, in 2011, China preferred INKA Construction Chemicals. In the giant aquarium project designed in China, Marinescape selected INKA-SUPERFLEKS -ocean blue- and INKA-KAPFLEKS.
For more information about INKA, please visit the company website. If you are looking for other companies in the Chemicals & Plastics Industry, connect via this link here.