Doratek is a Turkish medical supplies manufacturer. DORATEK medical was founded in 2008 to serve the health sector. In the beginning, the quality system required for the industry was established, and the required documentation was completed. This ensured the best adaptation of the company to these systems. New investments continued in this context. The vision of the company is always to follow the innovations in the industry and to have sustainable success. Doratek Medical is present in both domestic and international markets with its branded products coming out of its own pharmaceutical production line.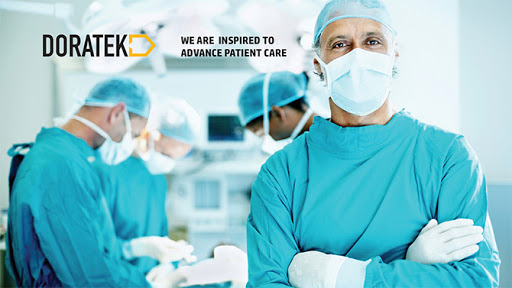 The company continues to serve spine surgery, cranial surgery, and orthopedic clinics through these brands. Spine surgery products under PIEX,  cranial implants under SYRON, and orthopedics products were put on the market under ORTEX brands. The quality system certifications required for the sector were initially created, the necessary certifications were made, and the company was adapted to these systems in the best possible way. New investments are also due in this context.
Since its inception, the company continues to do R & D design work and produce under its own brand, as well as OEM/OBL based production for various domestic/foreign companies in the medical sector. During these studies, the main goal has always been to carry out R & D and designs without compromising quality principles in all areas they serve and to produce a reasonably priced production.
Doratek offers innovative products and different business solutions to the health sector in spinal, cranial, orthopedics, and trauma branches. In addition to the required quality system certifications, the quality system is best adopted by the company for Sustainable Development. Doratek successfully serves its branded medical product line for the local and global Sunday. The company is a PieX™ brand for spinal, cranial, orthopedic, and trauma implants.
About Products:
Suture Anchor
Trauma Implants
Titanium TrussTM Anchor
Peek PierTM Anchor
Ergonomic Handle Design
COMPREX • Cannulated design facilitates accurate percutaneous insertion with minimal invasion. • Comprehensive instrument set ensures operational efficiency.
Trauma Implants
FLEXLOCK
• Used for Humeral, Femoral, Tibial shaft fractures • Dynamic compression by different screw thread in the proximal and distal side • Less trauma and hemorrhage during operation • An expandable self-locking nailing system – no distal screws required. • Smart instrumentation enables a straight-forward procedure
EXTRAMIC • Low profile plates to minimize soft tissue • 2.0 , 2.3, 2.8, 3.5 plate options • locking screws angled up to 150 axis
Spinal Products
PIEX – Simple & Secure
CERVOMAX – Biomechanical Strength Optimized Alignment
EASEL – Unique Design – Improved Mechanism
VELOX – Unique Design – Improved Mechanism
HEALER – Restores Balance – Stabilizes Against Shear
DAGGER – Restores Balance – Stabilizes Against Shear
EXPANDER – Restores Balance – Stabilizes Against Shear
FULCRUM – Lordosis Maintenance – Controlled Articulation
VERTOX – Lordosis Maintenance – Controlled Articulation
ORTHOPEDICS & TRAUMA
ORTEX: Hand & Foot Surgery Plates1.6 /2.0 /2.6 (locking) Systems, Wedged, Arthrodesis, Chevron Plates ORTEX: Headless Compression and Double Compression Screws, Wedged Compression Screws
Please visit the company website for more information about their products. Further, if you want to know more about medical supply companies in Turkey, visit our website.