Dörtler Kireç is a lime manufacturer in Turkey. The company was established in February 1981 under the name of Dörtler Kireç Sanayii Kollektif Şirketi. Furthermore, its activities include head lime used in industry; whitewash lime, 25 kg. and packaged extinguished powder bagged plaster lime, 10 kg.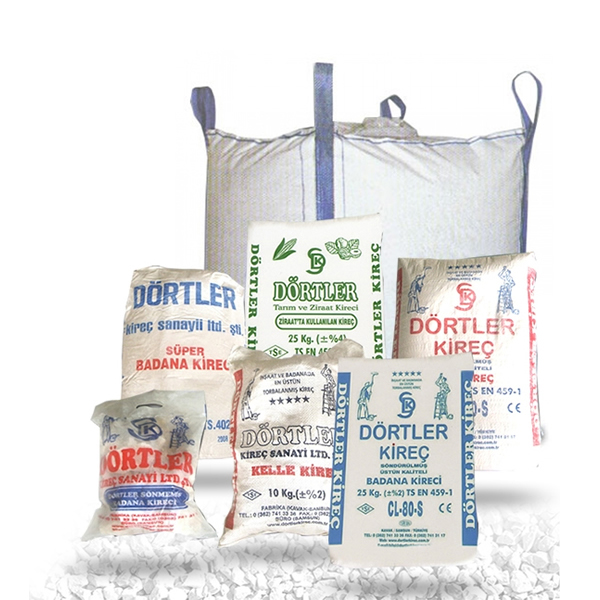 Packaged extinguished powder bagged whitewash lime, all kinds of stabilized road materials, under-sieve materials, asphalt materials, screed material, fine plaster sand, rough plaster sand, drainage material, gravel of all sizes, concrete gravel, micronized material production and transportation, domestic transportation works continues with the production of concrete pavement and locked stone, border, block marble. At the same time, jointed masonry and all kinds of excavation works are in its field of interest.
Dörtler Kireç ve Toprak Sanayi Ticaret Limited Şirketi has become a pioneer in its sector without compromising customer satisfaction with its 33 years of experience; meticulous, education-based and quality-oriented productions of its expert, engineer, technical staff and experienced workers. It has determined its goal in all production and services to be realized as modern city life, by using the latest technology opportunities in the development and application projects of new, quality products by constantly making R&D studies, expanding its product range. It has increased its production with investments that bring new technologies to its region.
Dörtler Kireç – Lime Manufacturer In Turkey: Core Values
Dörtler Kireç continues to maintain its commitment to its work with zeal and determination in the services it has provided in the sector. And its works in production activities since its establishment.
Firstly: Protecting the environment and respect for the environment.
Secondly: Occupational health and safety.
Thirdly: Safe, stable and convenient movement.
Fourthly: Respectful, patient, rational approach and positive attitude.
Fifthly: Efficient, fast and honest work.
Sixthly: Team work.
If you want to know more about lime manufacturer companies in Turkey, visit our website. Please do not hesitate to contact us by mail at [email protected] or to call/WhatsApp us at +90 532 361 51 49. We can help you to get in direct contact with producers or provide you with everything that you need. Further, you can visit our Instagram account.