Eker Gıda is a milk and dairy products manufacturer in Turkey. Eker Süt Ürünleri was established in 1977 to produce yoghurt and buttermilk. Today, it is a company with more than 100 product types in milk and dairy products. It operates in ayran, yoghurt, milk desserts, fruited cottage yoghurt, white cheese, cheddar cheese, cream, butter, kefir, pasteurized milk and UHT milk production.
Partnership with Andros Group
Eker Süt Ürünleri established a partnership with the French Andros Group in 2006. Thanks to this partnership, Eker accelerated its growth momentum and strengthened its technological infrastructure. Besides, with the know-how and know-how support provided to Eker and the know-how and expertise of Andros in milk desserts, Eker started to produce milk desserts. At the same time, thanks to this partnership, Eker sends its products to 117 different countries.
One of the most significant gains of the partnership is the new factory in Bursa Mustafakemalpaşa district, whose investments started in 2009 and became fully operational as of 2012. The factory has the most advanced technology in the dairy industry in Turkey's 120 acres of land, 1,000 tons of milk daily operates in 39 thousand square meters of indoor space.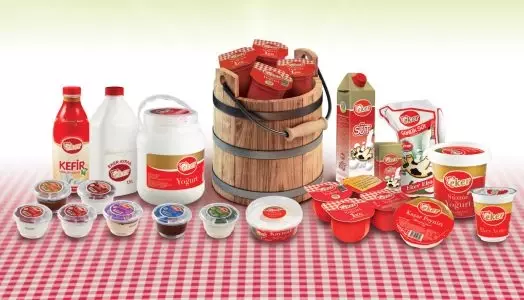 Eker's Innovations
One of Eker's greatest strengths is his innovative perspective. With this point of view, it has created many firsts in the sector and created new markets. In 1994 offering the first-litre buttermilk Eker market in Turkey has led to the sale of supermarket shelves. In 1999, Eker introduced the packaged cream product to the consumer for the first time. In 2000, Ecolean, which can dissolve in nature within one year, put daily milk in its packaging. Eker is the first company to industrially put traditional Turkish Milky Desserts on the market shelf by breaking new ground again in 2007. In 2015, inspired by the first strained yoghurt and fruit buttermilk produced by the nostalgia of glass bottles in bottle 70, Turkey has started to create the same form of fat buttermilk. It makes a difference between companies in a highly competitive market such as milk and dairy products. The fact that the consumers also adopt this difference strengthens my strength in the sector.
Quality of Eker Dairy Products Manufacturer
Eker also obtained the Recognized Trademark Registration by the Turkish Patent Institute in 2012 and approved its brand power. Marketing in the food industry in 2016 by Turkey Magazine "Leading Brand" Eker, Turkey's Super Brand in 2017, made Turkey a Super Brand Superbrands Turkey was selected by two years of research.
Eker is a powerful company in the retail market and the on-site consumption channel, especially its ayran product. Ranking second in the sector with its sales share in the on-site consumption channel and increasing its sales continuously, the brand continues to be the preferred brand by prestigious and top quality chain restaurants.
The most crucial factor that makes Eker an indispensable brand for consumers is that it combines technological infrastructure with a qualified workforce and high service quality and at the same time produces products that make a difference in terms of taste.
If you want to learn more about agriculture and food industry in Turkey, visit our website. Please do not hesitate to contact us by mail at [email protected] or to WhatsApp/call us at +90 5323615149. Further, you can visit our social media accounts to contact us.