Eskim serves in the chemical industry in Turkey. The company continues its activities in its production facilities in Eskişehir Organized Industrial Zone. Yılmaz Tezgören founded it in 1975. Today, the company operates in a total area of 25,000 m2, of which 15,000 m2 is closed. Having a total of 50.000 production capacity annually, the company has more than 100 employees. The company serves in the chemical industry and produces various paints, varnishes, thinners, polyester, alkyd, etc. chemical products. Serving various industrial groups, Eskim also provides services to the furniture and construction sectors. Eskim produces in 5 main groups as furniture, construction, industry, polyester products, and alkyd resins. It works to ensure that its products are reliable and of high quality. Besides, it is one of today's modern enterprises with its modern facilities and equipped R&D equipment and studies.
More About Chemical Industry In Turkey: Eskim
Eskim follows both the production process and the stages after production in detail. The unsaturated polyester resins, auxiliary materials, and thinner products it produces are used in various sectors. Sectors such as transportation, agriculture, button, electricity, construction are among them. The company also holds ISO 9001 Quality Management System, ISO 27001 Information Security Management System, OHSAS 18001, and ISO 14001 certificates. In addition, it has determined its mission to provide customer satisfaction and quality production by using products compatible with the latest technology.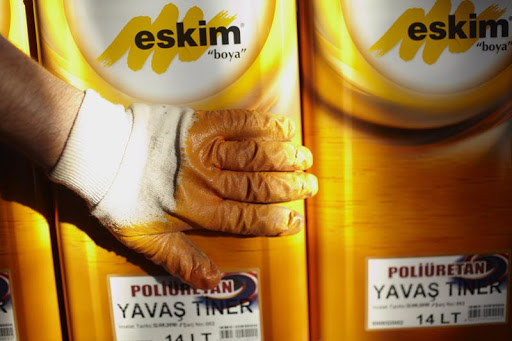 Achieving a successful presence in a competitive market environment, Eskim is a savior for many organizations with its wide range of activities. Eskim has always aimed to be a profitable and growing organization. Besides, it is an environmentally friendly company with features such as efficient use of energy resources and recyclable waste, too. Furthermore, exporting to various countries such as Asia, the EU, the U.S, and Africa countries, Eskim cooperates with 80 international companies. The company, which continuously improves its business and product quality, is one of the companies that stand out with its environmentally conscious attitude, high-quality products, and the importance it attaches to customer satisfaction. As of today, Eskim is a successful and ambitious company in the chemical industry in Turkey.
Please visit the company website for more information about their products. Further, if you want to know more about chemical products manufacturing companies in Turkey, visit our website.