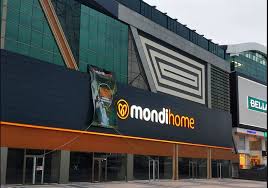 About Mondi Furniture
Mondi is a furniture manufacturer company in Turkey. The company has been providing top-level service in the furniture industry since 1993. Mondi delivers all of a home's furniture requirements; from seating groups to dining tables, bed bases to home clothing items, bedroom to the baby room, and carpet, to international quality standards. Mondi is one of the most favoured and popular furniture brands by bringing its products to customers across more than 300 retail locations. Mondi considers total customer satisfaction as one of its basic principles; hence the company draws attention as a brand that has a place in consumers' hearts with its constantly renewing company profile, competitive campaigns, customer satisfaction before and after-sales.
Missions and Slogan
Mondi continues to deliver high-quality, modern, imaginative, fashionable, and cost-effective home decoration options. In line with that their motto "Put Mondi your home, renew your life. " The company has high-tech, human health-friendly, practical, aesthetic, sleek, and decorative pieces. Thus, Mondi influences not just today's trends but also the furniture fashion of the future.
The furniture manufacturer company has newly opened stores, increased service efficiency, and continually refreshed product selection and choice. Along with these values, Mondi aspires to be a furniture industry leader. It shows its creative brand profile. Hence, it reaches this profile with R&D studies for renewal, extension, a new concept, and product diversity in terms of modernization and machine park in its current production facilities. Furthermore, Mondi is improving its role in the furniture industry by making successive new acquisitions.
Mondi Home seeks to satisfy consumer needs. So, the company makes this by delivering high-quality goods, making constant changes with all staff's aid, and being faster and more efficient every day. To accomplish this aim, it commits to becoming a solution collaborator with its vendors, monitoring technological and sectoral trends closely. Moreover that, the company commits by applying them to their companies and engaging in all of its employees' personal and professional advancement through training.
As a Furniture Manufacturer Company in Turkey and Abroad
Consequently, Mondi's popularity is rising by the day, as it aims to increase the quality of its goods and services. Apart from steady growth in the domestic market, Mondi Furniture expands its international presence year by year, exporting to nearly 60 nations. This includes the United States, Germany, Italy, and England, and increasing its global market share day by day.
For more information about Mondi Furniture, please check out the company website. Or to see more other companies in the furniture industry, click here for our listing.