Gesaş is a Turkish food manufacturer. It was established in 1974 in Konya province of Turkey. The company carries out its production activities in a total area of 22.000 m2 which 18.000 m2 is closed. Gesaş, first serving with tahini and tahini halva products, expanded its product range continuously until today. Continuously following the developing technology in parallel with its business and making investments in these fields, the company has applied innovations such as the latest technology continue systems, fully automatic ovens, computer-controlled units in its sector. Thanks to the latest technology it has, Gesaş has also managed to obtain certificates such as ISO 9001 Quality Management System, and ISO 22000 Food Safety Management System.
Product Range of Turkish Food Manufacturer Gesaş
Gesaş joined the Aşçılar Co in 2004. This allowed company to aim for sustainable success and make new investments. Since its establishment, Gesaş has always continued to widen its product range. Starting its adventure with producing only tahini and tahini halva, the company produces from halva to jam, Turkish delight to Mevlana candy, chokom cream chocolate to crushed sesame seeds, molasses to breadsticks, sesame to vinegar and sauce, and from oil to many others. Apart from its production activities, the company also attaches great emphasis on R&D studies. In addition, it has a professional management approach. Gesaş cares about customer satisfaction, and constantly analyzes the pros and cons of its products and makes improvement studies in line with customer demands.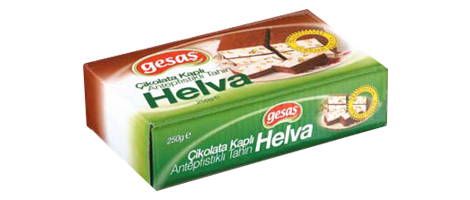 The company, which made its name known to a wider audience by participating in various fairs, has participated in fairs such as Gulfood Exhibition in Dubai, Bangkok-Thailand Turkish Products fair, and Shanghai-China FHC. Thus, the company has become known not only in Turkey but also abroad. Gesaş, which has been in the sector since 1974, is today one of the leading Turkish food manufacturers in its field.
Please visit the company website for more information about their products. Further, if you want to know more about food companies in Turkey, visit our website.