Hekimoğlu Un is a Turkish flour producing company. Mehmet Hekimoğlu and his brother H. İbrahim Hekimoğlu founded it in 1983. The company, which started production with a capacity of 200 tons, has increased its capacity with each passing year. Hekimoğlu Un, which set out with the slogan of "Flour without Complaints", has reached a crucial position in the flour market in Turkey in a short time. Having a place in the Turkish luxury flour market, Hekimoğlu Flour has increased its capacity over time. Therefore, it has reached a daily wheat processing capacity of 1000 tons today. Having an understanding that does not compromise on quality, Turkish flour producing company continues to improve its products in line with customer satisfaction.
Further Info Hekimoğlu Un: Turkish Flour Producing Company
Following the technological developments closely, Hekimoğlu Un stands out in its sector with its advanced factory. All units of the factory are in the machine, equipment, and technological automation system of the German Miag and Buhler brands, which are the giants of the milling industry. The company is compassionate about untouched production of the whole process from raw wheat to final product flour. The products are then packaged with automatic machines and offered to the market without human touch.
Product Groups of the Company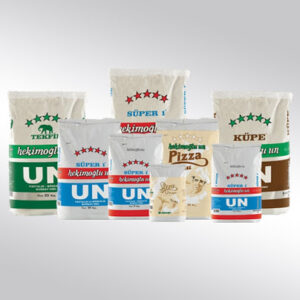 Producing various flours for different purposes, Turkish flour producing company Hekimoğlu has product groups such as Super Luxury Wheat Flour for Baklava, Pastry, Phyllo, Lux-1 dough wheat flour, Super 1 cakes, wheat flour for pastry, Tekfil cakes, wheat flour for pastry, Sedef bakery products, and many others. The company carries out every stage of its production meticulously. Further, it monitors these processes in quality control laboratories. Thus, it also indicates the great importance it attaches to R&D studies.
Turkish flour producing company Hekimoğlu Un stands out with its capacity, quality, and stable management approach. Hekimoğlu Un has sufficient raw material stocking facilities to meet its factory's quality standards and respond to its current production capacity. Moreover, it is included in Turkey's top 500 and top 1000 industrial establishments announced annually by the Istanbul Chamber of Industry. Hekimoğlu Un proceeds its activities with the principle of honest, principled, and honorable trade understanding. Consequently, it is one of the leading flour producers of Turkey today.
Please visit Hekimoğlu Un company for more information about their products. Further, if you want to know more about food companies in Turkey, visit our website.