Karsan is a automotive company in Turkey. Karsan was founded in 1966 and operated as a company of Koç Holding between 1979-1998. In 1998, Inan Kıraç acquired majority shares of Karsan and the company has became a part of Kıraça Holding.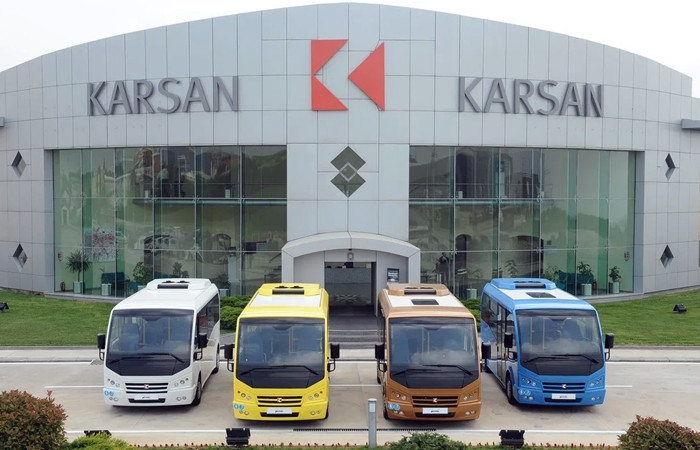 Karsan's factory in Bursa Akçalar, which has been producing commercial vehicles since 1981, was started to invest in 1998 and started production in October 1999. Akçalar factory, which is designed to produce all kinds of vehicles from car to truck, is 30 km away from Bursa city center and is located on an area of 206 thousand square meters with 85 thousand square meters indoor area. Today, Karsan Akçalar factory, which can produce 40 thousand vehicles in double shifts and 60 thousand vehicles in three shifts, has a capacity that can be increased to 100 thousand units with additional investments.
Karsan, which has been Turkey's only independent multi-brand vehicle manufacturer in the automotive industry since 2002 , produces Peugeot Partner with Peugeot license, Hyundai HD 35/75 with Hyundai license, Renault Trucks Premium Uzunyol with Renault Trucks license, Premium lander and Kerax, Citroën Berlingo with Citroën license and it also produces Karsan Atak , Karsan Atak Electric, Karsan JestRonic, Karsan Jest + , Karsan Jest Electric and J10 vehicles under its own brand.
According to ISO's research in 2011," Turkey's 500 largest industrial enterprises " ranked 91. today, 961 people work in Karsan. 63.46 percent of Kıraça Holding., 6.03 percent owned by Diniz Group and 1.73 percent owned by Inan Kıraç, 32.75 percent of Karsan's shares are traded on IMKB.
Karsan, which is a manufacturer of five different brands, including its own brand and aims to have a share in the planned export target of $ 100 billion for the Turkish automotive industry in 2023.
Please visit the company website for more information about their products. Further, if you want to know more about automotive companies in Turkey, visit our website.