The Kervan Gıda is a milk and dairy products manufacturer in Turkey. It was established in 1972 to produce yoghurt and Circassian cheese. They have increased their product quality day by day with the products they make in their modern facilities.
Prima-Vera experts control the products produced in their factories. In addition to periodic controls at production, distribution and sales points, its personnel receive training under HACCP conditions.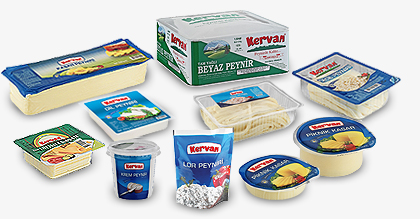 Production Facilities
Today, it manufactures in its factories located in Söğütlü – Sakarya with an open area of 25,000 square meters and a closed area of 6,500 square meters, and its factories located in the Biga District of Çanakkale. It continues its activities with its advanced technology production line and its quality increasing day by day, without compromising the food production regulations in force.
Policies of The Dairy Products Manufacturer
It produces dairy products from high-quality milk according to customer demands, quality, and global food safety management system standards. It offers by taking consumer expectations and commercial, ethical rules into consideration. It acts according to the principles of a preventive approach to reduce the use of resources and environmental pollution with all kinds of materials and methods used in its products and production. It keeps employee safety and health at the highest level.
 In line with the above principles,
To increase the satisfaction of our customers,
To ensure the continuity of the quality level of our products,
To ensure hygiene in all our processes, from raw material procurement to consumer consumption of our products.
To take the necessary precautions by determining in advance every possible factor that may reduce the hygiene level of the products,
To carry out our activities with minimum occupational accidents by keeping occupational health and safety at the highest level,
To try to prevent environmental pollution with permanent solutions and to protect the ecological cycle
To provide training opportunities and working conditions that will improve the motivation of our employees and their awareness of work, quality and cleanliness,
Continuously improving and improving systems to increase the performance of management systems
It is among company policies to fulfil all applicable legal obligations within the company. Together with the management and employees, they undertake to comply with this policy.
If you want to learn more about agriculture and food industry in Turkey, visit our website. Please do not hesitate to contact us by mail at [email protected] or to WhatsApp/call us at +90 5323615149. Further, you can visit our social media accounts to contact us.