Turkish cable manufacturer Vatan was founded in 1975 in Çorlu, Turkey. Thanks to being in the sector for more than 45 years, Vatan Cable's factory is among the most rooted cable companies in Turkey today. Vatan is developing its production capacity day by day in its factory. The production facility consists of 40.000 m2 closed and 125.000 m2 open area. In 2009, the company established the Copper Production Facility, which has a few examples globally and is unique in Turkey.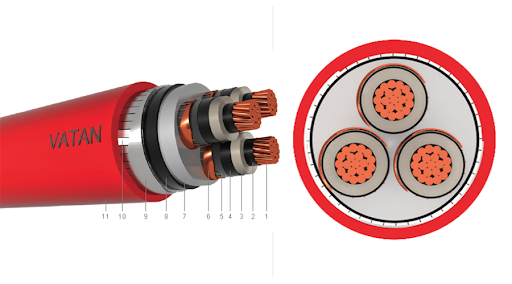 Employing more than 400 people, the company has started to make a name for itself all over the world with its continuous new facility investments. Vatan Cable performs its work in the highest quality with its experience and knowledge. Thus, it prioritizes customer satisfaction above all else. Therefore, it aims to provide the best service to its customers with its latest technology and superior service understanding. Furthermore, it continues to strengthen its "quality brand" image with the documents it holds.
Product Groups of Turkish Cable Manufacturer Vatan
Vatan Cable is the primary choice of many consumers today with its various cable types in its product range. Its product range includes all low voltage, medium voltage, and high voltage energy cables up to 72 kV. Mainly, the company manufactures data cables, low voltage cables, halogen-free cables, medium voltage cables, overhead lines, high voltage cables, copper conductors, rubber cables, and solar cables. Apart from these, Turkish cable manufacturer Vatan is constantly working to increase security measures. As a result, it is ahead of its competitors with its halogen-free cable production. These types of cables do not emit intense smoke and toxic gas in the event of a fire. In this way, the highest level of protection of life and property during a fire is increased.
Vatan Cable exports abroad as well as its domestic sales. And it is in the position of a powerful brand with its exports to European countries, Middle East countries, Africa, and Central Asian countries. In addition, the company gives confidence to its customers with its comprehensive product and system certificates. It has various documents such as TSE, HAR, TS EN ISO 9001 Quality Management System Certificate, GOST-R, UKR-SEPRO, and ISO 14001 Environmental Management System Certificate. The company adopts the vision of "creating ten world brands in ten years". Moreover, it is the "first cable manufacturer" in TURQUALITY, the world's first state-supported branding program. With its understanding that does not compromise on quality and its safe products, Turkish cable manufacturer Vatan is one of the critical and pioneering cable companies of Turkey today.
Please visit Vatan Cable company for more information about their products. Further, if you want to know more about cable-producing companies in Turkey, visit our website.