Turkish concrete products manufacturer Betokav started its activities in 1996. It was operating in Konya 1st Organized Industrial Zone at first. Later, the company expanded its production area over time and opened new facilities. Betokav first achieved successful results from its trial production activities in 1997. Afterward, it accelerated its activities and started to produce in various fields. The company has managed to draw a reliable brand image thanks to the various certificates it has received. Therefore, it has become a name that multiple companies frequently prefer today. In addition, Turkish concrete products manufacturer Betokav has various documents such as ISO 9001 Quality Management System, IQNET Certificate, etc. The company prioritizes customer satisfaction by offering the most reasonable prices, deadlines, and the highest quality in the products it produces.
More about Turkish Concrete Products Manufacturer Betokav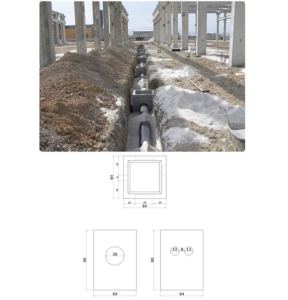 Betokav produces for various sectors. Thus, it has a wide sales network. The company, which acts with a business policy based on always satisfying its customers, establishes strong and trust-based relationships with its business partners in order to keep the success long-lasting. In addition to the importance it attaches to customer satisfaction and quality products, it has also made its name in the sector as an environmentally conscious company. The company pays attention to production with environmentally friendly activities. Therefore, many customers and companies appreciate it in this field as well as in many others.
Betokav is famous for its rich product range. It produces energy transmission line poles, low and medium voltage poles, twin posts, lighting poles, projector poles, transformer poles, catenary poles, traverses, box panel base, vent, and so on. Moreover, Turkish concrete products manufacturer Betokav is among the few companies of Turkey in the concrete pole sector with its quality. It is constantly working on adding new ones to its existing product range.
Production Areas and R&D Studies of the Company
In this direction, since 2000, Betokav has started to manufacture in almost every lane of industrial building prefabricated and prefabricated building elements. Finally, it has started the production of prestressed prefabricated structures. It continues its activities without slowing down in its facility built on a total area of 65,000 m2, 10,000 m2 of which is closed. Betokav is also closely interested in R&D studies. Therefore, due to its various positive features, Betokav is among the accomplished companies in the construction industry in Turkey today.
Please visit Betokav company for more information about their products. Further, if you want to know more about construction companies in Turkey, visit our website.