Turkish food producer Golda began to operate in 1997 in Konya. The company started its activities within the body of Bera Holding. Golda is one of the companies under the Bera Holding Food City project. It is a 500 million dollar giant organization that will consist of 24 food factories. This project is a 500 million dollar giant organization. The company is among this great organization. It produces in the facilities built on an open area of approximately 1,078,000 million m2 and a closed area of 76,082 m2. This major project has the capacity to employ 5000 personnel. Within this project's scope, flour, legumes, semolina, pasta factories started production in a short time. Furthermore, Golda is also one of the successful names that meet the demands of its customers with its various product groups.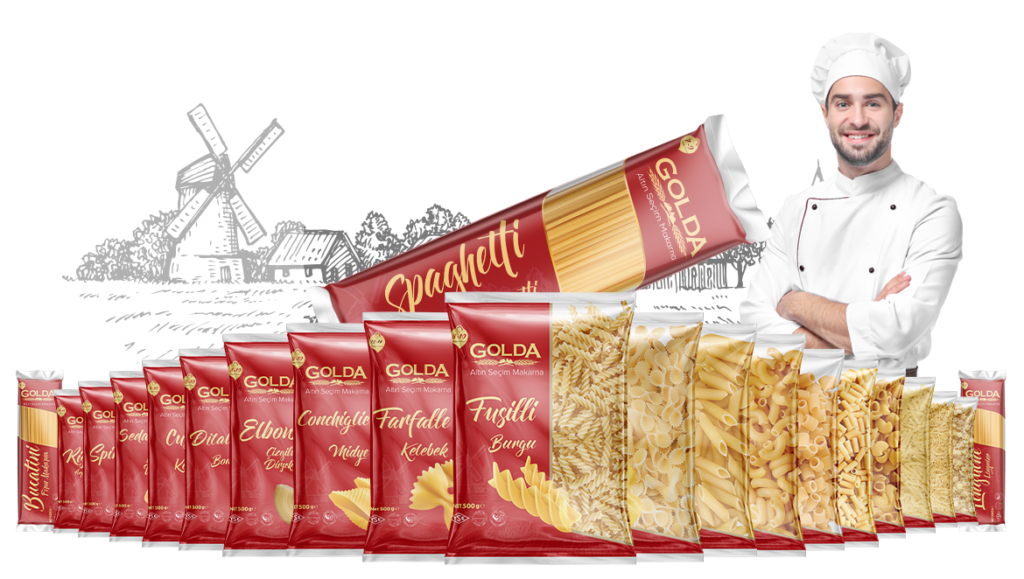 Further Information about Golda
In 2008, Golda was ranked 365th in the ISO second 500 companies list in Turkey. Golda, which meticulously follows all the production stages in its factories, gains the appreciation of its customers with its quality products. Moreover, by adopting an environmentally friendly policy, the company has arranged its production activities to cause minimum damage to the environment. In parallel with this, a co-generation system was established in 2019. Thus Golda started to produce its own electricity from natural gas fuel. The company also holds ISO 9001, ISO 22000, ISO 27001, and many more certifications.
Products of Turkish Food Producer Golda
When it comes to products, Turkish food producer Golda has various delicious product categories. Organic pasta group, pasta group, Golda flour, legumes, biscuits, wafers and coated products, gluten-free products are among them. Additionally, the company has set the goal of processing agricultural products grown in Turkey and abroad in Konya and delivering them as different food products worldwide under suitable conditions, taking into account human health and taste. Today, Golda is one of the accomplished names in the food industry in Turkey, thanks to having over 20 years of industry experience.
Please visit Golda company for more information about their products. Further, if you want to know more about food companies in Turkey, visit our website.