Turkish lighting solutions company Veksan started its activities in 1986. It manufactures to fulfill the demands and aspirations of Turkey's and the world's lighting industries, which are continuously evolving. Aiming to produce quality, contemporary and modern fixtures, the company has been continuing its activities without slowing down since its establishment. Veksan has become a specialist in lighting fixtures. Thus, it has become one of the experts in its field by transferring its knowledge and experience to this field.
Today, it continues to come to the forefront with its products produced with maximum quality and efficiency without compromising on quality. Additionally, the company knows how to integrate technological developments and innovations into its business. Therefore, Turkish lighting solutions company Veksan easily adapts to today's modern solutions.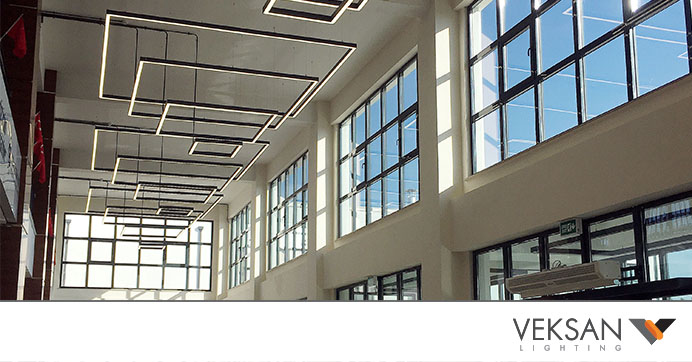 Further Info about Turkish Lighting Solutions Company Veksan
Veksan has become a reliable and favorite brand of the lighting industry due to its successful activities for years. Moreover, it improves its product range by making rapid responses to changing customer needs and demands. The firm does this through its highly trained and qualified employees who uphold ethical principles and operate in a collaborative manner, as well as the advanced technological machinery it employs. Veksan continues to serve with its extensive product variety, continually improving customer satisfaction and commercial potential.
As one of the prominent names in the lighting industry in Turkey, Veksan also contributes to the national economy. Today, the firm sells to Denmark, Sweden, Belgium, Hungary, Bulgaria, Ukraine, and Romania, emphasizing England and Germany. It produces in accordance with world standards. It has various lighting products such as recessed, surface-mounted, pendant, linear, downlights, spots, and so on. Turkish lighting solutions company Veksan has a strong manufacturer identity that allows it to produce custom products not only for its own brand but also for prominent European lighting companies.
Please visit Veksan company for more information about their products. Further, if you want to know more about electrical & electronic manufacturing companies in Turkey, visit our website.