Turkish olive products company Öz Köyüm began operations in the Pelitköy neighborhood of Burhaniye in 1957 with a stone mill water printing technique. The company first started olive oil production by establishing an olive oil factory. It gained expertise after serving the locals in the same way till 1988. As a result, it chose to broaden its area of operation. Afterward, Öz Köyüm imported continuous type olive squeezing machines from Italy in 1996 when the current equipment and production became insufficient. And it started to produce continuous olive oil. Öz Köyüm is also known as Kökten Zeytincilik. It has become an even more major company by deciding to institutionalize in 2015.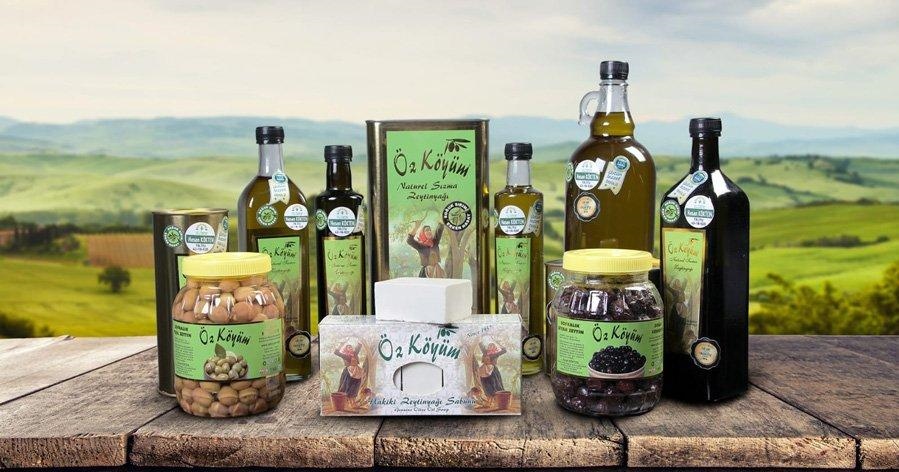 Product Groups of Turkish Olive Products Company Öz Köyüm
Öz Köyüm is one of the leading companies in its sector. It has received many certificates and awards. Having registered its brand in 2015, the company has started to sell various products, mainly olive products, under its own brand. The company has many product categories: olive oil, olive, cheese, honey, jam, soap, tomato paste, vinegar, special series, spice, and tea. Öz Köyüm is a totally organic olive oil and dairy products firm. It distributes the milk it collects from its own animals, the cheese it makes in its own dairy, and the natural extra virgin olive oils it gathers from its own olive trees and squeezes in its own factory. Besides its headquarters and the production facility, it also sells via e-commerce. In addition to these, Turkish olive products company Öz Köyüm also operates in the construction and service sector.
Awards & Certificates of the Company
Turkish olive products company Öz Köyüm has always cared about principles such as quality, taste, trust, and honesty. It has proven the reliability, quality, and taste of its products. The company has won the International Outstanding Taste Award, EVO International Olive Oil Contest 2021/ Gold Medal, JOOP Japanese Olive Oil Prize 2021/Gold Medal, and many others. Additionally, the company has also managed to obtain certificates like ISO 9001, ISO 22000, ISO 14001, etc. To sum up, with years of experience, Öz Köyüm is one of the leading companies in its sector today and is known for its quality.
Please visit Öz Köyüm company for more information about their products. Further, if you want to know more about agriculture & food companies in Turkey, visit our website.