Fistaş İplik is a woven yarn manufacturer in Turkey. It was founded in 1986 in Bursa. Today, it produces in 4 different factories, in a closed area of 65,000 M2. However, it has over 600 employees. It makes products such as woven yarns, home textiles, plain knitting, hand knitting, sock yarns, chenille, carpet and carpet yarns, embroidery yarns. In addition, it manufactures over 8,000 different products.
Service Areas and Products of Fistaş İplik
Fistaş iplik, a woven yarn manufacturer, is a company engaged in production with high technology in Turkey. In addition, it uses high-quality chemicals and dyes in its modern paint shop. Besides, it has a significant place among Turkish textile manufacturers and importers.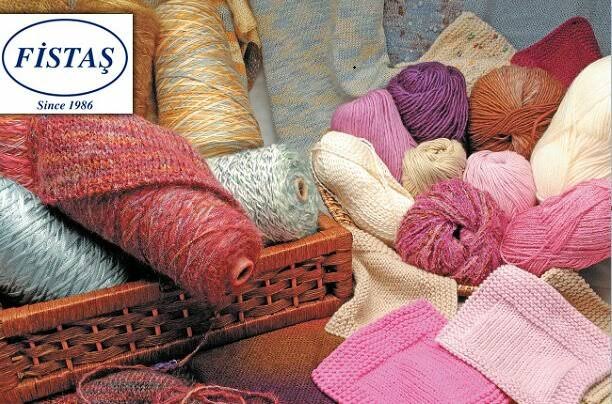 Products
Knitting Yarn,
Embroidery Threads,
Lace Yarn And Accessories Sewing Threads
Ready-made Products: Shawl, Scarf, Foulard, Carpets, Throws, Chenille Threads
Home Textile Fibre: Curtain Threads, Upholstery Fabric, Knitwear fabric, Sock threads
Paper Yarn, Fabric Yarns
Woven yarn manufacturer Fistaş İplik exports 70% of its products to Europe, the USA, Middle East and Asian countries. Also, it has a capacity production of an average of 40,000 kg per day. On the other hand, the yarns it produces consist of many natural and synthetic fibres such as wool, Acrylic, Moher, Polyamide, Polyester, viscose, linen, cotton.
The company gives importance to R & D activities. And, it increases the budget allocated for this business every year. In the same way, it follows innovative policies from production to human resources, from subsidiary industry to technological developments. It follows the changing textile market and evaluates the demands accordingly. Besides, it works for maximum customer satisfaction and serves at the desired level.
Fistaş İplik, the woven yarn manufacturer, implements all legislation related to international occupational health and safety. Moreover, it adopts the principle of continuous improvement in occupational health and safety. It has proven its quality production with ISO 9001, USB TEX2116, TSE, OEKO-TEX quality certificates. To summarize, fistaş's reliable brands produce according to people's demands all over the world. And it is used safely.
For further information about Woven yarn manufacturer Fistaş İplik, please visit the company website. Or you can check out our Textiles & Leather Listings for more companies in the industry.