Selpak has been manufacturing in the cleaning paper sector since 1970. Selpak, a company of Eczacıbaşı, has product categories such as toilet paper, towel paper, paper cloth, napkins, wipes and box wipes.
Selpak's brand adventure started with the first domestic toilet paper production and continued with paper towels, napkins and handkerchiefs over the years.  Its innovative perspective accompanies quality in its products, permitting to reach a leading position in the cleaning paper industry. The production base of Turkey's first toilet paper in Karamürsel was performed in a disposable tissue paper plant. The name Selpak was put on the brand in line with the suggestions of the factory employees. The word Selpak was derived by combining the "sel" suffix of cellulose, which is the raw material of paper, and the word "pak", which evokes cleaning.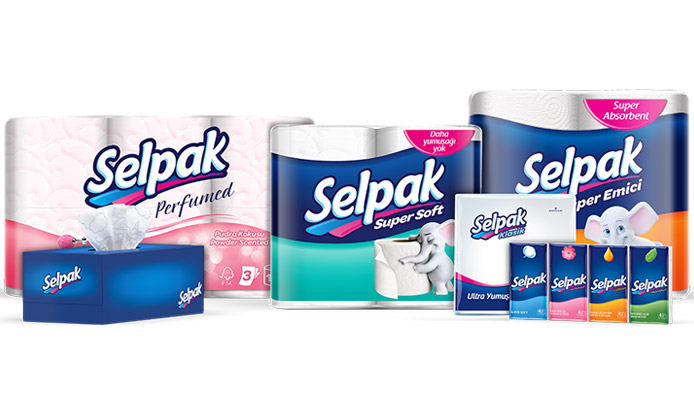 Selpak did not just launch a new product on the market; it created an essential change in Turkish people's cleaning habits. It first introduced toilet paper to the market, and soon tissues and napkins followed. Cloth handkerchiefs, which were widely used until this period, turned into accessories over time. Selpak tissue paper managed to reach a wide range of users from almost every segment and completely changed the habit of using handkerchiefs in our country. Over time, the Selpak brand increased its product range for industrial areas and individual users. It became an utterly local brand by purchasing the partnership shares in 2012. During this period, Selpak was renewed entirely and won a new packaging design and a new logo. Until this period, the elephant symbol used only to reflect the absorbency of products in the towel category became the brand icon of Selpak due to consumers associating it with the brand.
Please visit the company website for more information about their products. Further, if you want to know more about plastic packaging manufacturing companies in Turkey, visit our website.