Exterior ceramic models come in many different designs. It is in the exterior cladding of buildings. These ceramics add an aesthetic elegance to exteriors. In addition, they show the feature of insulation material. Exterior ceramic models are getting popular day by day. New designs show themselves on the exterior cladding of buildings. In short, if you want to use a low-cost and useful product while increasing the aesthetics of your buildings, you should examine ceramic models.
Exterior Ceramic Models
Exterior ceramic models produced with similar qualities to the ceramics we usually use in our homes. However, the surface coating called glaze may be different. This glaze part is the part where the strength of the ceramic is determined. For this reason, if it is specified that it is a suitable product, you can apply the ceramic models you have applied for indoor use on your exterior as well. For this reason, some companies produce ceramics that you can use both indoors and outdoors. You should pay attention to this feature when choosing your Ceramic.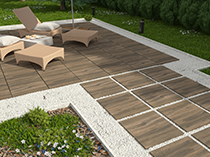 Exterior Ceramic Features
Exterior ceramic properties are superior to other wall covering panels and types. Suppose you have an exterior cladding solution in mind. In that case, we recommend you examine the types of ceramics that can cut moisture, humidity and noise to a great extent and show maximum resistance to these external factors. Ceramic models are pretty durable. And basically, its production is made from soil.
Ceramic obtained by firing clay soil. Ceramic, which fired in ovens of thousands of degrees, is a natural material. The process applied to take the final shape of the ceramic surface called glazing. Glaze increases the water, heat and good resistance of the ceramic surface; it adds texture to ceramics.
Ceramic is an inexpensive material. It is much longer-lasting and more affordable than the alternative wall covering panels and types. Ceramic is a product that can impress everyone with its designs. It can be used in all kinds of environments. There is a ceramic model for all tastes in terms of design.
In short, these are the most important reasons why exterior ceramic models and types have become so popular and preferred in many new residences and buildings. In addition, when the worldwide ceramic production is examined, it can be seen that the ceramics produced in Turkey are pretty successful and are exported to many different countries.
Which Ceramics Can Using on Exterior Facades?
Ceramic is a product obtained from firing the soil and produced from specific materials in primary production techniques. The ceramics we use in our homes and the ceramics used on the exterior of buildings are very close. If you are going to apply ceramic coating but cannot find a suitable ceramic for yourself as exterior ceramic models, some interior ceramics will also work. But here, it is necessary to consult a specialist. Exterior ceramic models are specified in various product catalogues. Most ceramics you use in your interiors, bathrooms or receptions are also suitable for outdoor use. However, a successful ceramic coating application required for outdoor use.
Consider These When Choosing Ceramics
For terraces or facades, choose ceramics with low water absorption coefficient on surfaces exposed to outside weather conditions. Especially porcelain tiles are more suitable materials for cold weather conditions.
Take care to use wall tiles on the wall and floor tiles on the floor. Because with floor tiles, you may cause a load that is too heavy to carry on the wall. Keep in mind the necessity of using the suitable adhesive as well as choosing the right tile. The dimensions and form of the place you will apply will also determine your colour choice. Choosing the right size is as important as deciding on the style and colour of the tiles.
After taking the dimensions of the surfaces, it is necessary to decide whether the tiles will be square, rectangular or in another form. In which direction you want to make the space look long or wide, place the long side of the rectangular tiles in this direction.
You can increase the sense of depth by covering a wall with a darker colour tile in spaces where you can make it appear larger by using light tones. You should prefer tiles with matte and non-slippery surfaces, especially in places where small children run around and where safety is a leading criterion. These products are also easy to clean.